Congratulations! You've made a big decision to buy a house in Jamaica.
This is a huge investment. You know you're ready for this big commitment when you can answer each of these questions with a resounding, "Yes!".
Are you financially stable?
Financially stable means two things here. You have low or no consumer debt, and you have an emergency fund set aside that can cover at least three month's expenses.
Do you have consistent income?
This doesn't mean you must have a 9 to 5 job. But, you must keep good financial records if you're self-employed.
Do you have a good credit score?
You can check your credit score by visiting the CRIF Information Bureau's website.
Are you willing to commit to monthly mortgage payments for the next 15 to 30 years?
A mortgage is one of the largest debt obligations you'll commit to in your lifetime. Be prepared for a long-term commitment.
Are you ready to live in a place of your own?
Buying a house will give you a great sense of independence. But, a house also comes with a lot of responsibility. You should consider home maintenance costs and what being independent will look like for you.
The next step is to start thinking about how much money you need to put aside monthly. These monthly savings will make it easier to buy a house in Jamaica.
Give Yourself a Homeowner Challenge
It doesn't matter if you've chosen to buy a house in Jamaica to suit a lifestyle choice or investment. The first thing you should do is a financial trial run or "homeowner challenge".
Start putting aside the estimated mortgage payment each month, plus a reserve for home repairs and maintenance. You can work this out by using these steps.
Verify Your Current Annual Gross Income
This figure can be found on your December payslip if you're employed. You can also ask the HR manager in your company to give it to you.
I suggest that you don't include any bonuses or commissions since these are not guaranteed. If you're self-employed, this is where your financial records will come in handy. Review the last three to six months to determine the average. Use 12 months if your work is seasonal.
Calculate The Amount You Need to Save Monthly
A good rule of thumb is putting aside 30%-35% of your annual gross income. Divide this by 12 to determine how much to set aside each month.
For this example, let's assume you earn JMD1,750,000 per annum (typical salary in Jamaica).
| | | |
| --- | --- | --- |
| Benchmark | Calculation | Monthly Savings |
| 30% | (30/100) x (1750000/12) | JMD43,750.00 |
| 35% | (35/100) x (1750000/12) | JMD51,041.67 |
Get Advice From Your Investment Advisor
Your investment advisor can help you identify the best account to use. This account will help you set aside money to cover the cost of buying a house in Jamaica. But, you don't just want to be shoving money into an account that yields few returns. You need an investment account so you should talk to an investment advisor, not a customer service representative!
Put this money in an account that isn't readily accessible to you. Some banks allow you to give the account a name based on your goal. So, you could call this account your "Buy a House in Jamaica Fund".
Be careful though. Some investment accounts are term based. For instance, you don't want an investment account that locks you into a three- year contract if you want to buy a house in Jamaica within a year! Also, don't forget to ask about the fees for opening and maintaining the account.
Resist the urge to use this money to invest in 'high risk-high return' opportunities to accelerate your savings. You may lose your money or pay avoidable fees if you have to cash out earlier than planned. A good investment advisor will know the best investment opportunities that can help you meet your objectives.
Also, this investment account should be different from your emergency fund. An emergency fund is essentially your backup savings, the money you'll use to cover your needs in cases of emergency. It should have three to six times your current net salary.
Set Up Automated Deductions
Let me be honest. It's hard to stick to a savings plan to buy a house in Jamaica, especially when you consider all the other things you should be saving towards.
But, automating your deductions can make it easier to stick to the plan. The funds would be transferred immediately after you're paid. Think of it as paying yourself first.
Save for at Least a Year
Stick to your savings plan for at least a year and then evaluate the results. Note the impact your savings plan has had on your life. Write down what you observe – the good, bad and the ugly. You can use these questions as a guide:
What did this exercise reveal about yourself and what's important to you? What about the people in your inner circle? Your family? Your friends?
Is the sacrifice worth it? How did it make you feel? Frustrated? Motivated?
Let's kick this challenge up a notch by determining:
The amount of house you can afford (according to the lender) compared to how much house you want to buy
Your closing costs
How to Estimate How Much House You Can Afford
Let's first estimate how much house you can afford.
Earlier, you estimated the monthly mortgage payment. Now let's see what that buys.
Local banks have mortgage calculators online that can be used to estimate what you can afford.
I'm going to illustrate this point based on current (2021) mortgage interest rates for a 30-year fixed-rate residential mortgage. These rates dictate that each JMD10,000 of a mortgage payment is equivalent to being affording a loan of about JMD 1.5 million.
It always helps to consult a mortgage institution for guidance.
Let's illustrate this using the numbers from the first example.
| | | | |
| --- | --- | --- | --- |
| Benchmark | Monthly Savings | Calculation | Mortgage (Rounded Up) |
| 35% | JMD 51,041.67 | 1500000 x (51041.67/10000) | JMD7,700,000 |
You must then consider your downpayment. This is the amount you'll pay out of pocket towards the purchase price. Add this figure to the benchmark and you'll have an idea of how much you can afford.
Let's assume you're making a 10% down payment.
| | | | |
| --- | --- | --- | --- |
| Mortgage | Downpayment (% of purchase price) | Calculation | Estimated Purchase Price (Rounded Up) |
| JMD 7,700,000 | 10% | 7700000/ (1-0.1) | JMD 8,550,000 |
A Word of Caution
Your mortgage provider may be willing to use a benchmark as high as 40% to 45% of your gross annual earnings to determine your affordability. Please consider this carefully before increasing your house purchase budget.
Also, you may need to go back to the calculations you made in your homeowner challenge. Some adjustments may be necessary depending on the time you have left between saving and buying a house. You may need to save a larger down payment or increase your annual income.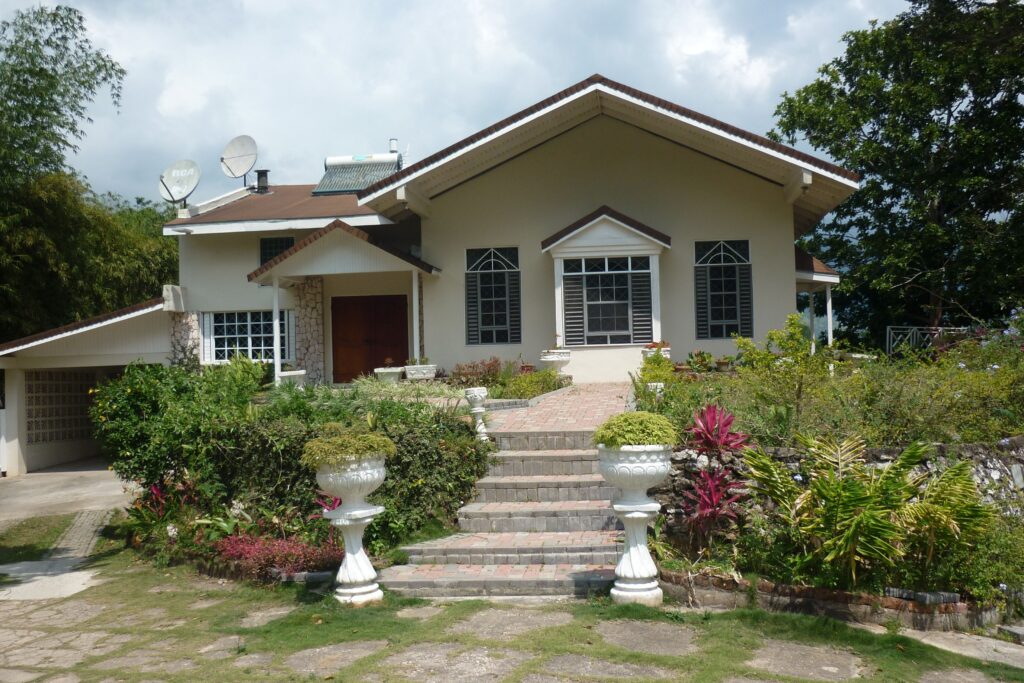 What Are the Recurring Costs Associated With Buying a House in Jamaica?
Homeownership attracts other recurring obligations.
Property Taxes
Check the Tax Administration of Jamaica's website (property tax query) to estimate what your property taxes will be. These taxes must be paid by April each year.
You'll need the valuation number for either the property or one nearby. The valuation number can be found by visiting the National Land Agency's website. The civic address of the property or one nearby can be entered into the website.
Strata/Property Insurance
This insurance is a cushion against damages to your property that result from natural and manmade events such as burglary, fire, earthquake, flooding, and hurricanes. Ensure that the stated replacement value is adequate in the event of total loss. Monthly premiums may range from 0.3%-0.5% of the purchase price plus GCT.
Tip: For apartments, this insurance is separate from the insurance paid by the Strata for the common or shared areas. Think about it this way, the Strata is responsible for insuring the building up to the external walls of your apartment. You are responsible for insuring your unit.
Mortgage Insurance
Mortgage insurance is usually added to the monthly mortgage payment. It's required by the lender as a form of protection. This insurance covers the mortgage balance if you're unable to pay (meaning you default on the loan). The bank may have a preferred insurance partner. But, I recommend shopping around with other insurance brokers if you can.
Strata/Property Maintenance
This is the cost to maintain the property and includes lawn care, roof repairs and maintenance, painting, and other repairs such as air conditioning, electrical and plumbing. You will be required to pay a separate monthly fee to contribute towards the upkeep of the common areas and buildings if you're buying a townhouse or apartment in a gated community.
For single family homes, it's recommended that you set up a personal maintenance fund to save for these significant lump sum events. List them, estimate when each may be required, and check with contractors for rough estimates. The budget is dependent on the size, type of building materials, the equipment that comes with the house, and the age and condition of the house at the time of purchase.
A good rule of thumb to follow is that your housing costs (mortgage payment and other recurring housing costs) should be about 40% to 45% of your after-tax or take-home monthly income.
Buy a House in Jamaica – The House Hunt
I recommend looking out for six things during the house hunting process if you want to buy a house in Jamaica.
Know Your Parameters
You won't look for homes outside of your budget if you know your parameters. Pay attention to:
Your preferred neighbourhoods. Real estate websites can help you find homes within those neighbourhoods that fit your budget.
The type of house you desire. Do you want a single-family dwelling, apartment, or town house?
Your deal-breakers: minimum size, lot size, number of bedrooms and bathrooms, garage, yard etc.
The condition you prefer the house be in (fixer-upper, move-in ready, or cosmetic repairs)
Where the house is located in the neighbourhood (busy street, cul-de-sac, near to a gully, near to preferred schools, transport routes, hospitals, distance from work, etc.)
Expand Your Tribe
A real estate attorney should be a part of your team. You can also consider hiring a buyer's agent. Other people you may need on your team include:
A land surveyor
A valuator
Contractor
Architect
Draughtsman
Your attorney will coach you through the process of buying a house in Jamaica and review the sales agreement. Shop around. Get referrals. Ask candidates how many first-time homeowners they have worked with, and how responsive they are to queries and resolving legal issues related to the title and the sales agreement. Ask them for a few examples and tips. Legal fees may be about 1.5% – 3% of the purchase price plus GCT.

The use of a buyer's real estate agent is optional. They negotiate terms on your behalf. You may rely on the vendor's agent but note that they are obligated to serve the interest of the seller. Regardless, this agent is still required to disclose relevant information about the property. Such relevant information includes a breach of the title, whether the roof leaks, or if the roof was repaired recently. So ask!
You may also need a contractor, architect, or draughtsman if you're considering renovating or if the house needs repairs. Get a second (and even a third) opinion during your walk-through or tour of the property. There may be an additional cost to you for their time and expertise.
You may also need a land surveyor and valuator to provide additional documents needed to close the deal.
Get Pre Approved Before the Hunt
Get mortgage pre-approval before you start looking for a house to buy in Jamaica. Your lender will require that you obtain a credit report (nominal cost). You'll also need to provide them with a copy of:
At least three recent salary payslips
Your employment letter
Photo identification
A self-employed person would need to provide bank statements, copies of submitted tax forms such as the SO4 and SO4A, and possibly a Tax Compliance Certificate (TCC).
Your pre-approval letter is submitted with your offer. This shows the seller that you're a serious buyer. Your real estate agent would help you to put together an offer. You would also need to submit:
Copy of Tax Registration Card (showing the number)
Proof of address
Completed and signed customer Information Form
Statement from the bank showing that you have sufficient funds for the down payment
Don't feel bad if your offer is rejected.
What's next if your offer is accepted?
Closing a Deal to Buy a House in Jamaica
You're on your way to closing a deal after you've found the right house and your offer is accepted. The process of closing can take four to six months. Be patient. Have your documents ready and set appointments with your attorney and lender as soon as possible. Also, follow up with your attorney and lender.
Additional Tips to Cover the Cost to Buy a House in Jamaica
Prepare for Additional Costs
The deposit isn't the only cost you should save towards. Save an additional 5% of the purchase price to cover closing costs and bank fees.
It's common for first-time homebuyers to neglect the cost of purchasing furniture during the initial stages of the home buying process. Furniture costs should be a part of your budget! You don't want to live in a bare house.
The house should also be ready for the basic occupancy needs. These needs include getting utility services (water and electricity) and installing safety features.
New construction may attract escalation fees on the original price. These fees may range from 5% to 10% of the sales price depending on the duration of construction.
You should investigate the reputation of the builder and developer. Also, view similar homes they have built since you wouldn't be able to see your unit until it's completed. Find out if they have a model unit.
Pay Attention to Your Debt Service Ratio
Your lender will assess your total monthly loan payments (debt) as a percentage of the monthly income to gauge the ease with which you can pay your mortgage. This is your debt-to-income (DTI) or debt service ratio. Your DTI, including your mortgage payment, should not exceed 50% of your monthly income.
Avoid making any major purchases, opening new lines of credit, or taking out major loans before you purchase your home as this may adversely affect your debt service ratio and you may not be able to get the best mortgage.
Utilise First-Time Home Buyer Programs
Don't forget to check for first-time homebuyer programs. The National Housing Trust has a Joint Financing Mortgage Program (JFMP). NHT contributors are eligible to access funds from the NHT at affordable rates through participating institutions without having to visit NHT's offices.
There is a service charge for this facility. Check NHT's website for details. You can also learn more about buying a house through the NHT in this article.
Avoid Surprises
Some unexpected things can happen during the process of buying a house. Check on your prospective house purchase up to the date of closing to avoid surprises.
Final Words
I've shared a lot of costs to buy a house in Jamaica. It may seem overwhelming but proper financial planning can help you live your dream of homeownership. Keep investing regularly and speak with an investment advisor who can help you create the right investment plan.
What has been the most difficult aspect of buying a house in Jamaica for you? Let us know in the comments below. We'd love to hear from you!